Author : Lee Tsan Ho Peter (MPH candidate)
Drug Labelling Designs: A Comparative Study
Why re-designing drug labels could boost the medication compliance rates for patients in Hong Kong
Introduction: the rationale of improving drug labelling strategies in HK
The epidemiological transition [a] has resulted in a rapidly aging population in Hong Kong. The total population aged 65 years old or above was projected to double in 2039 with respect to 2009 levels [b].
A well-developed primary care system is instrumental in reducing the institutionalization of frailty in Hong Kong [c]. Key to a well-developed primary care system hinges on a successful community pharmacy system [d], which is also central to prevention of medication non-compliance among elderly patients. However, the excessive textual representation of current drug labelling designs has hindered the efforts on ameliorating elderly patient medication non-compliance [e], according to a survey by Sik Sik Yuen. This excessive textual representation has hampered the understanding of medication labelling by patients. The survey concludes that the textual over-representation and lack of description of the drugs' shape are the major shortcomings of drug labelling in HK, both for community pharmacies and Hospital Authority-affiliated pharmacies.
Graphic designs within drug labellings, promoted in certain Taiwanese hospitals and community pharmacies, have been applauded for its facilitation of drug labelling understanding [f]. With a view to the shortcomings of Hong Kong's drug labelling, here provide a comparison between drug labelling format in Hong Kong and in selected regions (namely, the United States, the United Kingdom and Taiwan).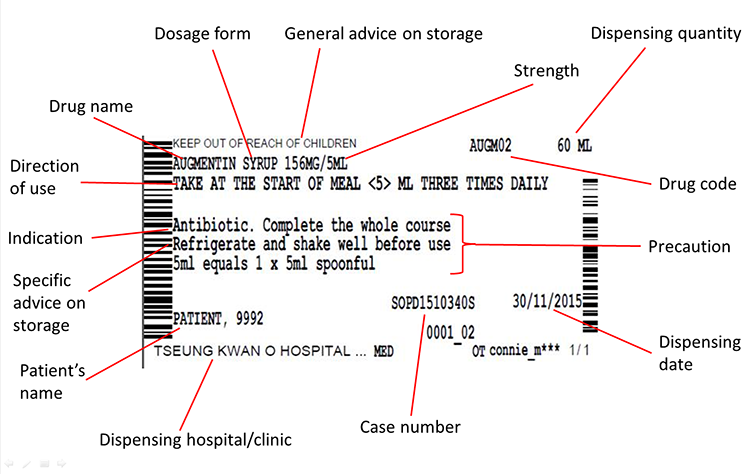 How the senior citizens view the current drug label design in HK
According to a survey commissioned by Sik Sik Yuen [3]:
| | |
| --- | --- |
| Concerns they have raised | Proportion of interviewees supporting |
| Enlarging font/type sizes | 96% |
| Reforming texts to symbols | 90% |
| Description of drug's shape and colours | 84% |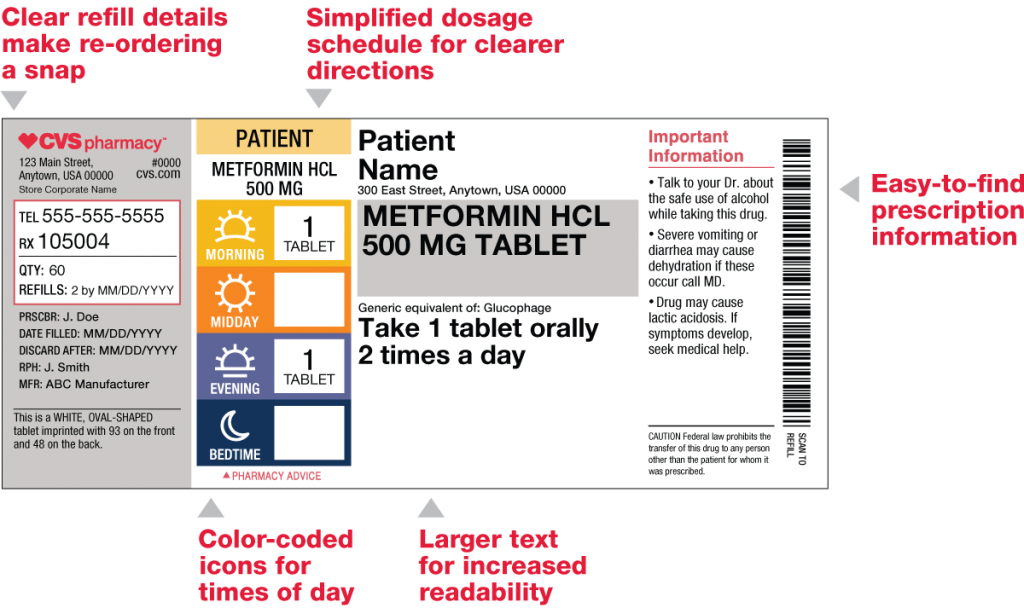 On average, an American adult fills nine prescriptions annually, with people older than 65 averaging 20 prescriptions a year.  Unfortunately, about half of patients report being confused about how and when to take their medications, contributing to the 50 percent of patients with chronic conditions who stop taking their medications within the first year of diagnosis
CVS Health developed the ScriptPath prescription management system to help patients understand and manage their medications, improve the effectiveness of their medication regimens, and drive better patient safety and outcomes.
The prescription schedule, new labels, and bag tags use the same colorful, visually appealing, and easy-to-understand icons, which were developed for ScriptPath with designer Deborah Adler. The icons are used to communicate what time of day medications should be taken — morning, midday, evening and bedtime.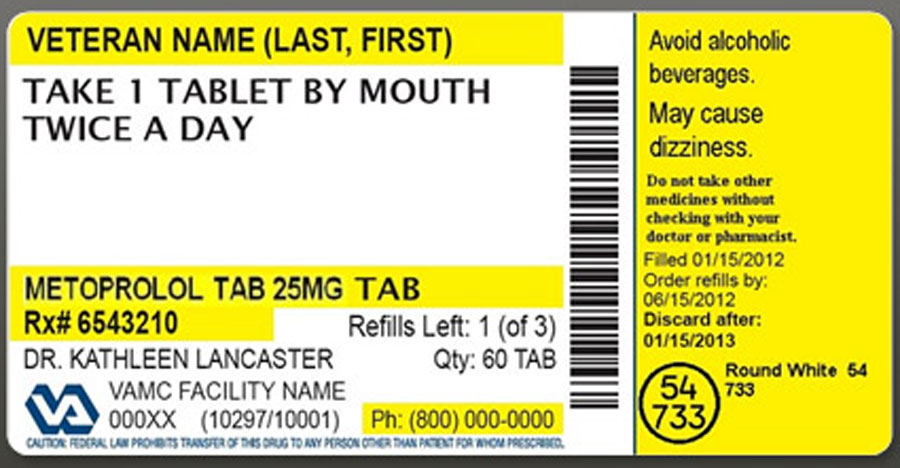 In Wisconsin, a survey showed nearly half of people taking medication say they've been confused by a label. The reasons are  vague instructions ("Take as directed"), tiny print and the difficulties of coordinating dosages of multiple medications. The new design helps patients to make prescription labels simpler to read and schedules easier to manage.
The new patient-centric prescription label has the following changes
Your name has been moved to the top of the label.
Directions on how to take your medication are now larger and bolded.
The date the prescription can no longer be refilled is clearly stated.
No medical jargon
What essential features could be covered by mixture of graphic and text in Taiwan Design?
Appearance of the pharmaceutical product (illustration with symbols, graphics or pictures of real products)
Dosage frequency [quantity/time] 
Route of administration
Warning (esp. on medications targeting external use)
The study illustrates the difference between drug labelling format in Hong Kong and selected comparative regions. In short, Hong Kong's drug labelling has been characterized by its comprehensiveness; however, this comprehensiveness could impede the patient's understanding as textual over-representation could significantly introduce misconceptions during elderly patient's understanding of drug labels.
Hong Kong's drug labelling system also trails US and Taiwan in terms of drug appearance illustration [e]. A simple graphic illustration of the drug appearance is instrumental for elderly patients to identify the correct drug regimen and help them distinguish between different drug regimens (as poly-pharmacotherapy is commonplace for elderly, whose multi-morbidity is prevalent [a]).
A reform on the format on drug labelling by incorporating graphics on route of administration/dosage, as well as drug appearance, is vital for facilitating understanding of drug usage by elderly.
Cheung FM, Woo J, Law CK. Health Systems — Challenges, Visions, and Reforms from a Comparative Global Perspective. Hong Kong: Hong Kong Institute of Asia-Pacific Studies, The Chinese University of Hong Kong; 2013.




Kwok B, Tam K. Designing effective medicine labels for senior citizens in Hong Kong [Internet]. Hong Kong: Information Design Lab, School of Design, the Hong Kong Polytechnic University; 2012. Available from:

https://www.slideshare.net/infodesignlab/idl-medicine-label-idc2012

[Retrieved 15 Mar 2020].

Sik Sik Yuen. Age-friendly medicine label survey 2010. Hong Kong: Sik Sik Yuen; 2010.

Hospital Authority. Carer Corner – Understanding Drug Labels. Hong Kong: Hospital Authority; 2016. Available from:

https://www21.ha.org.hk/smartpatient/SmartElders/en-us/Carer-Corner/Drug-Knowledge/Drug-knowledge2/

[Retrieved 15 Mar 2020].

Department of Health of Hong Kong. Guidelines on the Labelling of Pharmaceutical Products. Hong Kong: Department of Health of Hong Kong; 2019.

Rx Outreach. Understanding Prescription Medication Labels [Internet]. St. Louis: Rx Outreach; 2019. Available from:

https://rxoutreach.org/education-understanding-prescription-medication-labels/

[Retrieved 15 Mar 2020]

Code of Federal Regulations Title 21 2019

(US) P 201A.

The Government of the United Kingdom. Medicines: packaging, labelling and patient information leaflets[Internet]. London: The Government of the United Kingdom; 2020. Available from:

https://www.gov.uk/guidance/medicines-packaging-labelling-and-patient-information-leaflets

[Retrieved 15 Mar 2020].

Medicines and Healthcare products Regulatory Agency. Best Practice guidance on the labelling and packaging of medicines. London: Medicines and Healthcare products Regulatory Agency; 2015.